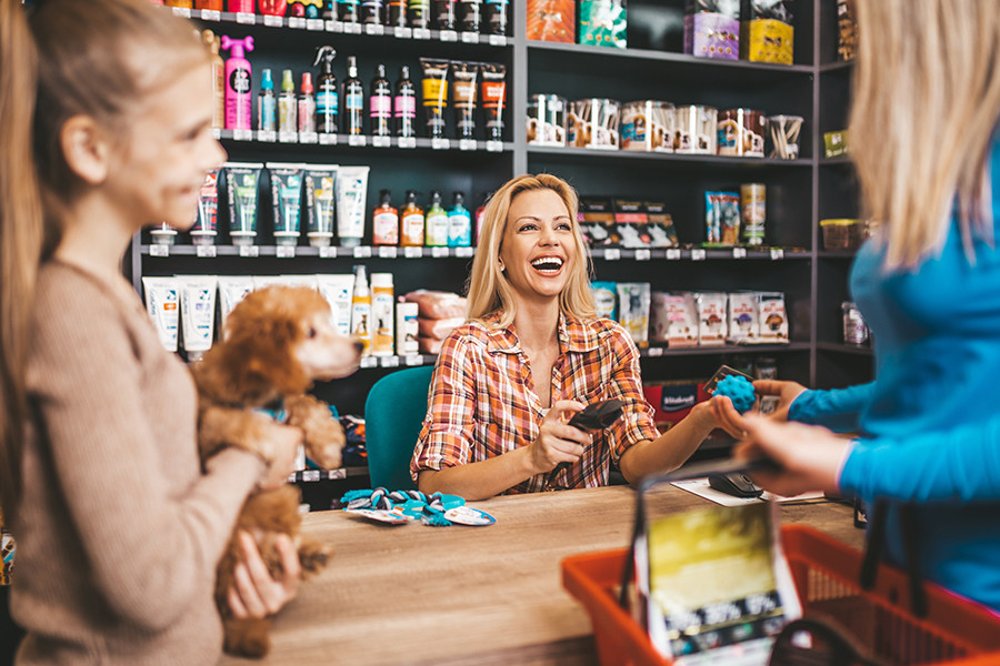 Improving Pet Shop Operations with Innovative Software
Animals have come to mean so much in our lives, making the pet industry big business. From neighborhood stores to high-end boutiques and big-box stores, staying ahead of the competition requires a robust POS system that integrates fast customer processing with loyalty and real-time data analytics. While dogs and cats are the mainstays, the industry includes birds, aquariums, reptiles and a multitude of products and consumables that increase the value of every sale. Capture a greater share of your market with a POS system with features that compete with national chains.
Discover the Benefits for Pet Shop Owners
INTEGRATED LOYALTY PROGRAM
A built-in omnichannel loyalty program makes it simple and convenient to reward you loyal customers for doing business with you.
INTUITIVE INVENTORY CONTROL
Powerful back office capabilities mean that controlling your inventory is a breeze, especially when it comes to ordering more products and entering new products into your POS system.
EASY TO USE
RMH Store is built with a simple, clean, and intuitive design that allows for less time training pet shop employees and more time using your solution.
All of the Features Your Pet Shop Needs
Taking control of your industry is no easy feat. To stay competitive, you must have a POS solution built for your industry with a full suite of innovative features to help you stay ahead. RMH Store offers these features to give you the most control over your business:
Loyalty that is built-in, not added on. The pet industry is unique for the multitude of loyalty programs that often include manufacturer incentives. RMH's powerful loyalty module facilities multiple store and brand programs running simultaneously.
Customer data is key. More than just name and address, RMH collects customer preference data for targeted marketing initiatives.
Intuitive POS interface makes customer processing fast and efficient while rewarding loyalty. Programmable quick-access buttons put common items, commands or functions at your fingertips.
Easy promotion set-up using pre-set sale dates, volume, BOGO and other marketing programs.
Payment integration which facilitates taking every form of payment, gift cards or house accounts. You can even issue gift cards for your own store!
Easy item look-up by UPC, SKU or assigned item number, along with item pictures assure your staff is ringing items correct.
Extensive KPI reports gives you the data to make informed decisions on inventory levels and ordering.
RMH is built to grow with you. Open additional locations seamlessly with RMH Central, the system designed to manage multiple stores, and integrate customers across all locations.